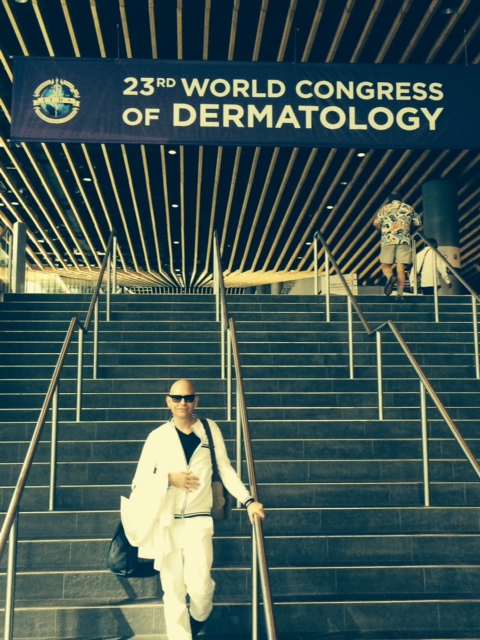 Currently celebrating 30 years in the aesthetics industry, Blade Tiessen was the first male certified Aesthetician in Canada and is currently the owner of the well established anti-aging clinic now enjoying 14 years of successful business in beautiful historic downtown Orillia.
Graduating cosmetology and aesthetics in 1986, Blade opened his first salon and spa in his small hometown community in 1988 but decided to sell it a year after to move Toronto to expand his experience in the industry. Throughout the 90ʻs Blade worked in several premier spas throughout Toronto including the prestigious Yorkville area.
Achieving Medical Aesthetic training in 1993, Blade began working with doctors performing procedures like micro-pigmentation, chemical peels and laser treatments.
Blade has also been involved in developing products since the mid 90ʻs formulating with several labs still today manufacturing beauty related products for several global companies. In 2001, Blade met his partner Ben and moved to Orillia (Ontario Lake Country and gateway to Muskoka) opening the areas first full time Medi-Spa.
Since establishing the anti-aging clinic Blade has passionately kept himself at the forefront of the Medical Aesthetics industry gathering technology and education globally to build his brand, he was the first to offer (among many procedures) micro-needling in Ontario originally using his micro-pigmentation equipment to dry needle scars and wrinkles in the late 90ʻs and progressing to rollers and then manual stamps by 2005. In 2006 Blade established the CIMA-Technique incorporating micro-needling with rollers and traditional acupuncture protocols.
Blade was also Dermapen's first Canadian practitioner importing his first pen back in 2010, he is now very excited to begin educating DermaPen 3 protocols to new and existing DermaPen 3 practitioners as well as representing the brand on the Canadian Medical Aesthetic market.
In July of 2013 Blade was named the Canadian educator for Dermatude Canada, a micro-needle company from the Netherlands specializing in Meta-Therapy. Blade has since traveled with the company to Montreal, Toronto and Vancouver educating their exclusive Meta-Therapy protocols.
Blade Left Dermatude™ in 2014 to continue educating micro-needling as the North American educator for Dermapen™.
With his vast experience in various micro-needling equipment, techniques and protocols DermaPen™ Worldwide is excited to welcome Blade to the family!
Last year Blade and his associate of 8 years Dr. Nadir Aljazrawri or Dr. A.J (as commonly known) established OPlasma, a PRP harnessing company for the medical cosmetic and wellness markets along with a support skin care line called OPeptide.
To coincide with the launch of OPlasma Blade and Dr. A.J. opened OInstitute to educate their system to doctors and their support staff. The institute, the first PRP and Micro-Needle institute in Canada is also the certified training center for DermaPen™ 3 in Canada.